With the help of a panel of experts we've chosen 10 candidates for the UK's best eco home. Between 22-24 April, we'd like you to vote for your favourite. Day 10: Slip House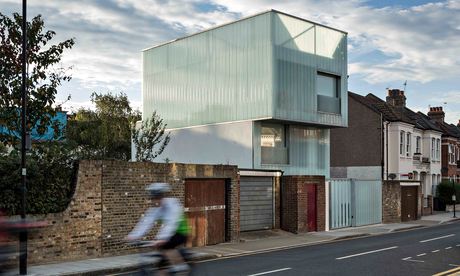 10. Slip House, Brixton, London
Slip House is a flexible, eco-minimalist haven that successfully reimagines the urban terraced home. This translucent, three-storey house rises ethereally from a row of traditional Victorian houses in south London. Perceived as "a vehicle for in-house research into sustainable design" it is the home of architect Carl Turner and his partner Mary Martin.
The multi-award-winning house is constructed of three "slipped" stacked boxes that cantilever towards the street. Each box serves a separate function and each has been carefully placed to maximise light and outlook without encroaching on the neighbours' space or privacy. The shifting planes of the building – which are wrapped in milky planks of glass – also break up the bulk of the property.
At the top of the building, the glass planks extend beyond the roof line to create a secluded roof terrace, screened from the bustle of Brixton below. The planks also surround a set of photovoltaic panels that generate electricity. Beneath the property solar assisted "energy piles" transfer the load of the building to the ground whilst drawing heat from the earth up into the building. Rainwater harvesting, triple glazing, a wildflower roof and a mechanical ventilation system have helped to property achieve a level five (out of a possible six) in the government's code for sustainable homes.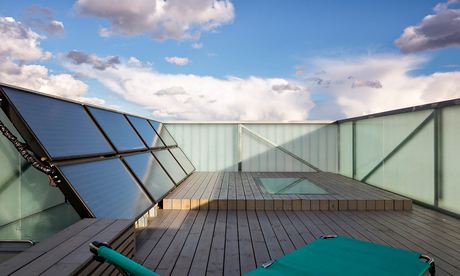 The sky garden at Slip House in Brixton. Photograph: Tim Crocker
The three open-plan levels (built and furnished for a total of £600,000) are kept deliberately flexible. "We have always described the way we use the house as 'living over the shop', much like the weavers' houses in Spitalfields were conceived as places to work and live," says Turner. "We are interested in new modes of living where the possibility of home working offers more than a desk in the box room."
Turner's studio space is on the ground floor. It has its own entrance from the front courtyard, but is also connected to the main house via an internal door. "The ground floor can be shared or used completely independently," says Turner "or it could be rented out as a separate flat in the future, or as a place for elderly relatives to stay should it be needed".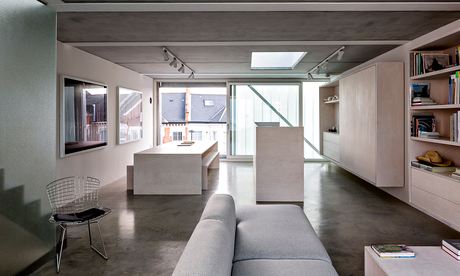 The 2nd floor living space at Slip House in Brixton. Photograph: Tim Crocker
"The house is a joy to live in," says Turner. "The light quality is amazing and an added benefit of such a well-insulated, triple-glazed building is the lack of noise pollution. The house is very, very quiet. Not only between inside and out, but also the mass of the floors and solid concrete stairs mean there is very little noise transfer within the house."
In-built storage walls and sliding plywood panels have helped the owners achieve a rigorously minimalist aesthetic. "The minimal lines do require a degree of discipline," concedes Turner "but, as Mary says, why would I want to look at the washing up liquid?"
• Read more about Slip House here